Any genre, length or format of book counts, as long as it is a book that's been sitting on your shelf for some time now. Short stories and novellas are OK, too! Only books released in 2013 and earlier! NO 2014 ARCs and 2014 fresh-off-the-press releases allowed!

On the 20th of each month we will post a wrap-up post, here, on BOOKISH. Every wrap-up will have it's unique theme, a mini-challenge, a giveaway and place for you to link up your reviews from this month. For each review you link up, you will get one entry in a drawing of one book of choice from Book Depository. It's open to INTERNATIONALS. The giveaway will be open until the next wrap up post goes up! (i.e. the entire month)
31-40 - Sweet Summer Fling
41-50 - Could this be love?
50+ - Married With Children
Freda's Voice 100+ Book Challenge
Read some books. Any books. No limit in pages, even the phone book counts if that is your fancy. Just read!
My Books (Hopefully With Their Reviews):
British Books Challenge 2014
Rules:
The books can be in print or out. Old or new titles. They can be from any genre and for any age range. Becky and Kirsty's blogs both focus on YA books but I read a mixture of adult, NA and YA so you can expect to see reviews of both on my blog. Obviously it's entirely up to you if you want to read adult, NA, YA or children's novels - or a mixture of them all!
If you sign up for the Challenge you will be aiming to read at least 12 books by British Authors (which works out to one a month).
Aim:
12
My Books:
This Man by Jodi Ellen Malpas

Beneath This Man by Jodi Ellen Malpas

This Man Confessed by Jodi Ellen Malpas
2014 Everything YA Reading Challenge
What are the rules to the challenge?
Participants must create a shelf or a page to where they can list the books that they have read for the year.

Book must meet any of the sub- genres of the young adult category, whether it's paranormal, romance, drama, contemporary, horror, etc.

Must be longer than 100 pages.

The year of when the book was published does not matter. As long as you have read the book in 2014, it will be accepted.

TO THOSE WHO HAVE A BLOG, feel free to post up a review of each book that you have read for the challenge and provide a link please?? I would love to read it :)
Push yourself to the limit babe!
The 2014 Ebook Challenge.
Challenge Guidelines:
This challenge will run from Jan 1, 2014 – Dec 31, 2014.

Anyone can join, you don't need to be a blogger. If you don't have a blog, feel free to sign-up in the comments. You can post reviews to any book site (i.e. Amazon, Barnes and Noble, Smashwords, Goodreads, etc).

Any genre or length of book counts, as long as it is in ebook format.

You can plan your books in advance or as you read them.

When you sign up in the linky, put the direct link to your post about joining the E-Book Reading Challenge.

Sign-ups will be open until Dec 15, 2014, so feel free to join at any time throughout the year.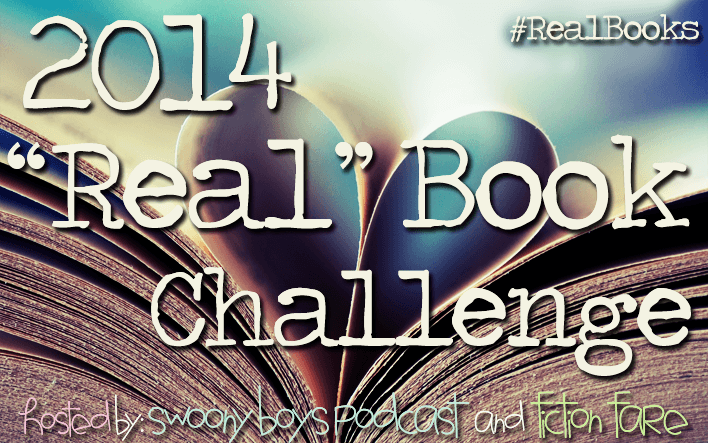 Any book counts. It can be any genre, any length, and as old or new as you want. If you can hold it in your hand and turn the pages yourself, it belongs here. (This includes Advanced Reader Copies.)

Any book counts. It can be any genre, any length, and as old or new as you want. If you can hold it in your hand and turn the pages yourself, it belongs here. (This includes Advanced Reader Copies.)
11-20 - Real Book Enthusiast
31-40 - Real Book Aficionado
41-50 - Real Book Hoarder
50+ - Real Book Queen/King